In Memory of our Fallen Soldiers

Back to the List
Aharon Ben Yaakov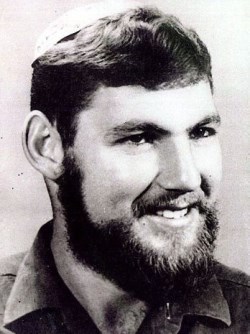 Born on the 9th of Elul, 5708, in Hadera.
A graduate of Yeshivat Bnei Akiva in Netanya and Yeshivat Azata.
Fell while fulfilling his duty on the 17th of Shevat, 5729.
A story told by friends who served together with Aharon in the army rabbinate, and were with him at his outpost: "As unconventional soldiers, we were free from doing any jobs related to security which the other soldiers had to fulfill. Despite this, Aharon requested from the commander of the post to also give us guard duty. From then on, we were more accepted by the rest of the soldiers, and we were able to take advantage of the time that we spent guarding by having our conversations with the soldiers. On the holiday, almost everyone fasted and the next day they put on tefilin, and there was even one soldier who requested army tefilin, and, of course, Aharon arranged that the soldier would receive the requested tefilin."
May His Memory Be Blessed